Dwelling amongst Greensboro's 'unseen' | Native Information
(from left) United Way of Greater Greensboro's Michael Cottingham, Vice President of Marketing and Communications and Frank McCain, Vice President of Community Investment stand under a railroad bridge on East Washington Street, Thursday, Nov. 16, 2017, in Greensboro, N.C. McCain and Cottingham spent two nights on the streets in this area to get an inside look at the people they serve.


Andrew Krech/News & Record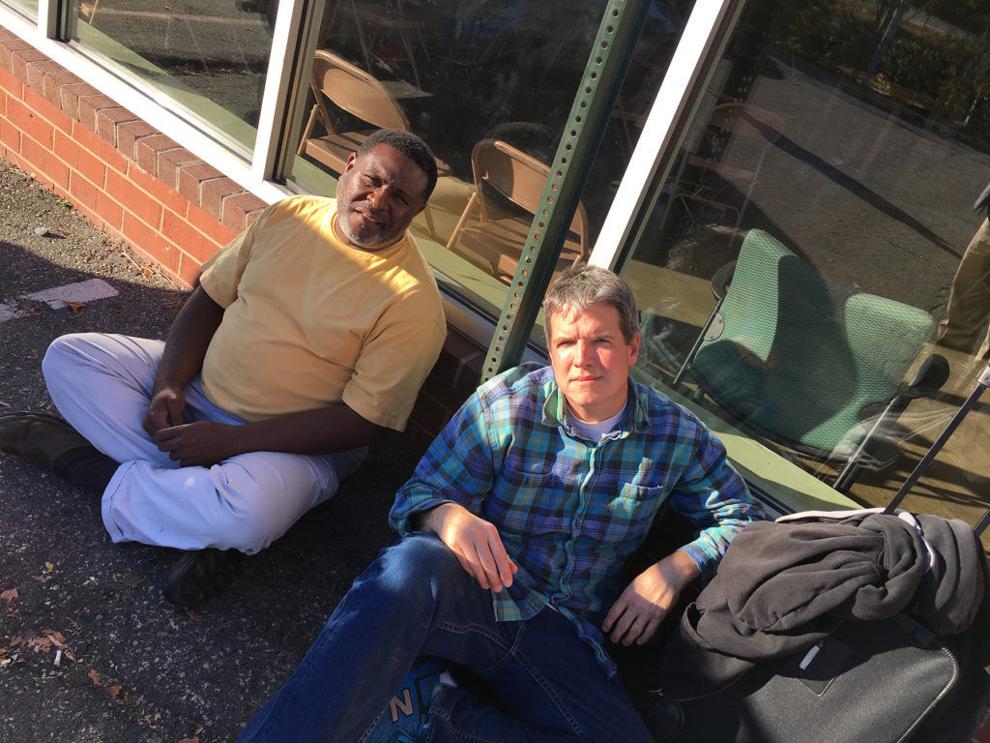 While undercover, United Way of Greater Greensboro's Frank McCain (left), vice president of community investment, and Michael Cottingham, vice president of marketing and communications, handed another man a phone and asked if he would take a picture of the two.
Nancy McLaughlin
GREENSBORO — The view from the park bench changes as darkness settles in downtown, and the temperature drops to just above freezing.
Even the beauty of nearby LeBauer Park wanes.
Especially with Frank McCain's arthritis acting up and the warnings from others who regularly sleep outdoors — of where not to go in the darkness — still ringing in his and Michael Cottingham's ears.
After walking around all day with pillows stuffed in Cottingham's backpack and McCain's two-wheeled piece of luggage packed with bare necessities, the two men stared past the other benches to the people walking as if they had somewhere to go, and then back at each other.
Eight people had been killed in the city in the weeks before, and it was weighing on their minds that day in early winter 2016. So was the prospect of being charged with trespassing after hours.
At that moment it didn't seem to matter that they were executives for a nonprofit who had traded the security of their daily routines to immerse themselves in the local homeless and needy population while seeking ways to help. Suddenly, they felt the very real desperation of not having anywhere safe, nowhere warm, to go.
And the city's first frost was approaching.
In their resulting report, "GSO Unseen" — which they say they hope will open discussions about addressing the roots of poverty as a community — they capture moments of hope and shatter stereotypes.
But they also found a frightening bottom line: The neediest of people in this community can find meals (depending on the day), medical care (the emergency room or overburdened nonprofit clinics) and clothes to wear (lots of giveaways) but not necessarily a warm bed (once the few fill up).
Poverty is not unique to the state or to this,
North Carolina's third-largest city.
It is fueled by the addition of families who have fallen out of the middle class because of layoffs or companies closing or underemployment; of working-class people grappling with loss of benefits or reduced hours or rising prices that have given them less to live on; and of those who can't find work or have given up on looking for it.
Many of those people and families have ended up in a state of homelessness or near homelessness — either sleeping on the streets, in vehicles or couch-surfing among friends and family. Or struggling to stave off an eviction.
Those who work with the local homeless and needy population say it is difficult for others to fathom the depths of the problem — or even see the people behind the statistics.
Such as the family who found a place at the YWCA's family shelter after neighbors in an out-of-the-way cul-de-sac noticed a car idling there for hours. When the car's dome light flipped on, children could be seen moving around inside. The residents called police, who called the shelter.
Also at that shelter was the single dad who had been sleeping on a park bench in a quiet park with his 4-year-old daughter because an old eviction kept him from being able to rent again.
That's one of the reasons McCain, the vice president of community impact and investment at the United Way of Greater Greensboro, and Cottingham, the vice president of marketing and communications, came up with "GSO Unseen." 
In recent winters the extent of the need for shelter has been so intense that the Interactive Resource Center, a day center for the homeless, has been forced to double as a warming station during brutally cold nights because even those people who try to brave the outdoors in the city's numerous "tent cities" needed a place to go. The YWCA does the same.
At the same time, the United Way decided to focus more of its resources on a long-term approach to fighting poverty.
McCain was telling a good friend about the work, as a way of moving the whole community forward.
"He said, 'Well, Franklin, what do you really know about poverty?' He said you don't know poverty. I do."
McCain admits he initially was offended. He had upper-middle-class roots, but growing up he had friends whose families struggled. That was also true in college and in his life as an adult.
"Unless you are blind, you see things," McCain said. "I went to school with people who had less than they needed — but had I truly experienced it? I said maybe he's right."
He said he thought about a story on the nightly news about a woman in Phoenix who had left her young children in the car during a job interview. The woman later was arrested.
"Who could think that's right?" he said he thought at the time.
But as McCain delved more deeply into the root causes of poverty, it became clearer how she came to that bad decision: The woman didn't have child care. She took a chance, and it was the wrong one. But the story also shed light for him on the kinds of support low-income people need that other people would assume they had.
"I thought, maybe for me to be more effective in the work that we are doing, maybe I needed to get a better understanding, and he was right," McCain said.
He looked first at the homeless population.
"I saw them as being those who had the least of all," McCain said.
He shared his thoughts with Cottingham, who had also grown up in a family that didn't have any needs there weren't met. Cottingham, who had worked with needs for Medicaid recipients and people with mental-health issues, substance abuse and developmental disabilities, said he knew McCain was onto something.
"It's easy to think you understand populations you are serving," Cottingham said.
But had he ever had to choose between food and heat? No.
The idea was to step into the shoes of someone homeless or nearly homeless.
Cottingham, who grew up in Kernersville and graduated from Mars Hills College, has two children younger than 6. McCain, who grew up in Charlotte and graduated from N.C. A&T, has two children, the youngest of which is in college.
On a Monday morning in November 2016, McCain, dressed in a hoodie and slightly stained pants he wore around the house to do odd jobs, and Cottingham, in a flannel shirt and blue jeans, parked their cars near downtown and mentally closed the doors on their middle class lives.
Stepping into their "characters" would be, invariably, easier than they thought.
Traveling with luggage in the middle of downtown during the day gave them an instant invisibility of sorts.
"We were unseen …," Cottingham said.
"… Even by people who knew us," McCain added.
As they navigated downtown, two people — a past and a current board member — walked out of a building on Elm Street and directly in front of them.
"People who know us, work with us …," McCain said.
"… We had to move out of the way," Cottingham added.
These people who knew them on a first-name basis quickly moved past without even a glance in their direction.
"I almost said, 'Hello,' because it was natural to say," McCain said.
Instead, McCain and Cottingham just looked at each other and kept walking.
The two found the building on the edge of downtown, on a path familiar to those needing help.
"We knew it was important to start the day off at the IRC," Cottingham said of the day center for people who are homeless or at risk of being homeless.
The IRC provides showers, a laundry, an address for mail that could come from a potential employer or family states away and access to services, such as mental-health management.
McCain said he had known very little about the IRC up to that point.
Developing similar cover stories — each said he was unmarried with a child and girlfriend who would be coming in the near future — they separately walked into the lobby and signed up for an appointment with a case manager. Each took a seat among tables full of people already there.
Nothing seemed unusual to those around them.
When McCain spotted Michelle Kennedy, the IRC's executive director, walk through the open area, he pulled a newspaper up to his face, fearing she might recognize him.
People in the nonprofit world tend to know him because he is among the people who they talk to about needs.
He wasn't worried about anyone else.
"I think that people made the assumption that if you are here with us, it's because you have to be here," Cottingham said.
Many of the chairs were filled with regulars, but McCain and Cottingham were not the only ones there for the first time. Some others had suitcases or carried bags of clothes and seemingly, the last of their belongings.
"I was sad because there were just so many people," McCain said. "Women, children and families. Young and old. People with disabilities."
McCain and Cottingham took in the faces and conversations going on around them, from sports to the challenges of fighting for custody of children.
"Some of the most basic things that they offer there help make the people who use those services feel like they are human," McCain said of seeing people stop by the IRC to take showers and change clothes.
Among those who rested or waited for appointments, they found people in khakis and button-down shirts, dressed for the lives they hoped for, and others waiting for the shower, to get out of clothes they had slept in.
"There were some people who seemed really into making positive steps, and there were some people who seemed checked out, who seemed tired, worn out," Cottingham said.
They asked those around the different tables where they could find food and a place to sleep, even a job.
Someone mentioned a temporary agency that had luck with helping the homeless find work, including on a construction project going on downtown.
Somebody else mentioned the Little Green Book, which lists free meals locally, and the Little Blue Book, which lists free food pantries.
"I felt like we had become immediate parts of the family — 'you're here, and we are in the same boat, and we've got to help each other,'" McCain said.
Some of them had slept the night before in their own beds or tents, while some others had made their way over from the shelter at the Greensboro Urban Ministry.
"There are a lot of people who think homeless people … are not doing anything to help themselves out of their situations," Cottingham said. "The people we came across were doing all that they could."
They were there for job training, checking waiting lists for more permanent housing and meeting with case managers.
"A group of five men hung out in the IRC's locker room listening to music beside a man who slept on top of a table, fully clothed with no pillow — all unaffected by a strong bathroom odor," they would write later of the experience.
"Many people slept in chairs with their heads resting on top of round tables in the main waiting room. At one table multiple games of chess were played, as people continued to challenge a man who continued to win."
Almost everyone seemed to have a cell phone.
"People say, 'Why would they have a cell phone; that's a luxury?'" McCain said. It only took a few seconds for him to see it's not.
Some were waiting for calls about a job, for example. For others, it was the only way to maintain contact with their families.
And they saw that firsthand as they later stood outside the IRC.
"This guy was just sitting on the curb and finishing a conversation (with someone about an application the man had filled out)," Cottingham said.
And then they heard him yell to no one in particular:
"Thank God! Finally. I got a job."
It would take six hours for McCain and Cottingham each to sit down with a case manager. Monday, someone sitting nearby told them, was the busiest day of the week.
After answering a series of questions related to services they could receive, such as those for veterans, both emphasized they had no place to sleep that night. In each case, their names were entered into the North Carolina Statewide Homeless Management Information System. The IRC keeps track of beds locally and the waiting list to get one. Both received the same, immediate answer.
There were no beds in any of the shelters.
"There was a sense of hopelessness," Cottingham said.
The caseworker tried to help Cottingham think of friends or family who might let him in until he got a bed. When Cottingham said he had nobody, the man mentioned that some laundromats stay open all night. He also mentioned the library during the day.
A homeless man later would tell McCain and Cottingham of riding a bus in Charlotte until it goes out of service for the night.
Another man said that if the temperature dropped to 25 or below, several warming stations would open. But the temperature at the time only was approaching the 30s.
"You and I both know 34-40-45 degrees is cold," McCain said.
In that moment, there was nothing to do except wait for a call for a bed.
But there was another more pressing problem to think about: Both men were hungry.
Waiting to be seen at the IRC, they had missed the time frame for lunch at Greensboro Urban Ministry, which would have been nearly a 2-mile walk.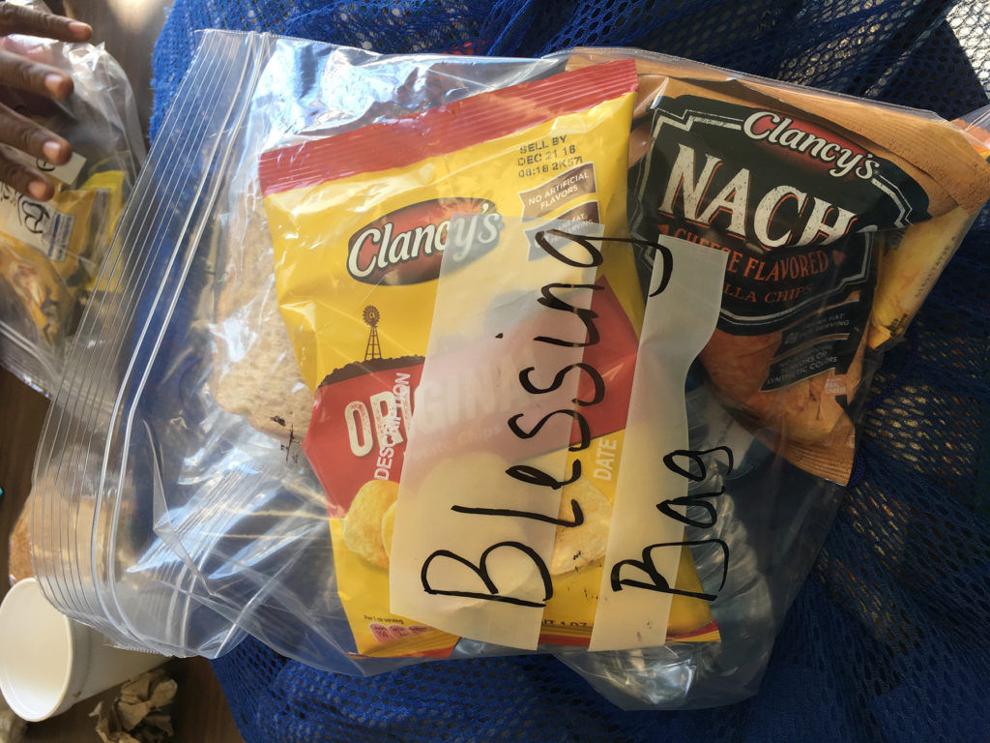 While going undercover as homeless, Cottingham and McCain were gifted a "blessing bag" at the Interactive Resource Center, courtesy of a local church.
Nancy McLaughlin
A worker came up with a "blessing bag," donated by a local church. In it was a cheese sandwich, two bags of chips and a bite-sized candy bar. Both men eventually nibbled through the chips and candy. Cottingham ate the sandwich as well.
The IRC soon was closing for the day, as it does in the mid-afternoon. But on Mondays, the nonprofit Greensboro Food Not Bombs would serve dinner there. So it would be reopening in a few hours.
They decided to walk to the Urban Ministry to see if they had better luck just showing up there and asking for a bed.
On the way, they passed a lady who had taken up shelter in the doorway of an abandoned building. They asked her if she knew anywhere they could sleep. The woman, huddling under a blanket, appeared to be mentally ill and spoke in incoherent sentences.
Along their way they grabbed a hot dog from a restaurant attached to a gas station.
At the Urban Ministry, they were told they would have to go back to the IRC to be placed on a waiting list. They asked if they could sit down in the lobby for a few minutes to gather their thoughts.
They said they were told "no."
They didn't allow anyone who wasn't staying there in the building.
The two men decided to head back to the IRC.
"Frank had already felt like he had walked 10 miles," Cottingham said, with a slight laugh.
"I should have worn better shoes," McCain said of the memory, which still made him wince.
For the next hour, they unsuccessfully searched bushy areas downtown for the tent cities they had heard about.
This time when they passed the woman in the doorway on their way back to the IRC, she seemed more coherent.
"Did you find a place?" she shouted from the doorway.
"No," they responded in unison, before continuing on their way.
At the IRC others were gathering in the parking lot.
They also found an outdoor outlet to charge their phones.
While sitting there, a talkative young man asked if he could use the charger for his electronic vape pen, so that he could smoke.
He told them he had stopped by to eat before going to work and that he, too, was homeless. He lifted his shirt to reveal hundreds of bed bug bites from the last place he had slept. After charging the pen for about 10 minutes he walked away with a woman he had just met. He blabbed about the sex they had just had.
Soon, a family, with a man, woman and four children appearing to be under the age of 8, pulled in the parking lot in an old car. As the adults stood in the line and kept calling them back, the children sporadically played in a pothole, getting dirtier each time.
When the car's horn started blowing for no reason, the woman climbed back in, knowing what to do to silence it.
Once inside the building, the father started making plates for the children.
The mother sorted through a box of donated items.
The encounter had McCain and Cottingham thinking about their four children among them, and what they would do for them.
Awaiting them all was a non-meat buffet of food — rice and more than half a dozen vegetables and beans — donated from local grocery stores to prepare a free meal.
And then it was nearing time to go.
The other homeless people who had seen them earlier in the day were happy the two had a traveling companion in each other.
A few gave them directions to one of the many "tent cities" locally. They also said it was among the safest places to go.
"'Don't pay attention to people doing drugs or arguing or fighting; they'll leave you alone," one man told them.
The others were surprised neither had a tent of his own.
Eventually the others scattered to their familiar paths.
"When we got to the point where they were concerned for our safety, it was a big wake-up call," Cottingham said.
They could only think of getting back to Center City Park.
Along the way they stepped into the Subway sandwich shop downtown, for the warmth. A woman cleaning up inside let them stay until it was time to lock up.
And then it was time to move again.
"It's not that we didn't know, but now we know much better," Cottingham said.
Back at the park, they thought through what was facing them and the others outdoors.
They thought of the homeless people with medical conditions, such as diabetes or sleep apnea, that could require access to electricity and a refrigerator.
"What does that person do?" McCain said. "You're not able to access the things that you need."
With arthritis, the cold air can be paralyzing, he said.
"There's no comfort," Cottingham said. "There's no taking care of yourself in any way."
For 30 minutes they debated what to do next.
Other homeless people who walked by acknowledged them with a nod.
As a last option, they called the United Way's 211 information and referral line. The person on the other end of that 24-hour, seven-days-a-week phone service quickly offered places that provide shelter, but they were the ones McCain and Cottingham had tried to get into through the IRC.
"We both felt it was one thing to do this social experiment, and it was another to put our lives at risk," McCain said. "We felt defeated."
After getting into their individual cars, they drove home.
But had they really failed at what they set out to do?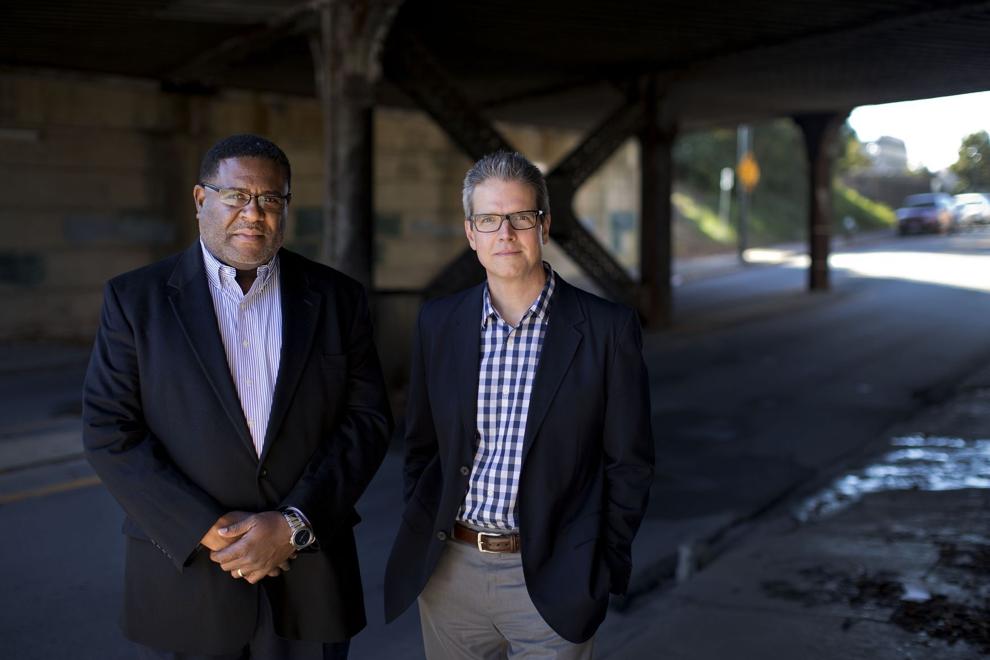 United Way of Greater Greensboro's Frank McCain (left) and Michael Cottingham stand under a railroad bridge on East Washington Street in November in Greensboro. McCain and Cottingham went undercover to get an inside look at the people they serve.


Andrew Krech/News & Record
Back in his office over the next couple of days, McCain wrote "Someone out there needs me to be their voice today" on a white board.
"Sometimes you get in such a hurry, you become oblivious to your surroundings," McCain said of the reference.
And when he and Cottingham sat down and thought about it, they realized they did have something to say.
For one, it takes a certain resilience to navigate through that life, the men said.
"There are places where you can receive meals; you just have to be physically able to walk to them," Cottingham said. "When you have all your stuff on your back and you are tired and hungry and cold, it would be very easy to give up. We spent less than one day there. Imagine spending a week or a month or a year doing that."
And although the slights they felt that day during instances of people who knew them basically looking right past or through them might have momentarily hurt their feelings, they said they felt worse knowing that homeless and needy people are "looked past" every day.
"People don't admit it, but most people in our community are two to three checks from being in that same position," McCain said of people across all backgrounds.
Cottingham got emotional thinking about the irony of an encounter with someone they consider a good friend near the International Civil Rights Center and Museum in the old Woolworth department store building, where McCain's father was one of four A&T freshmen who sat down at the counter, sparking a sit-in movement across the South. He's Franklin McCain Jr., son of the civil rights icon.
"That person walked out of the civil rights museum, and here I am walking with the son of one of the people who started a movement, " Cottingham said of the person who made no eye contact on the street. "If anyone would be recognized in that moment at that location, it would be Frank. It really spoke volumes and is something I will never forget."
But they also wondered if the roles had been reversed, if they would have done the same thing.
"We have got to 'see' them," McCain said. "They see each other on the street, but nobody sees them. They don't have a name. They don't have a face, because people don't make eye contact with them. We've got to change that."
Cottingham has since run across people downtown that they met that day.
Even without thinking, he said "Hey" or nodded his head.
Both men said they gained a huge respect for the way the homeless look out for each other.
"The people there — although they have very little themselves and were trying to find their way long-term or just for that day — they took the time to help you," McCain said.
They shared their experiences with the executive directors of the IRC and Urban Ministry.
"It can only help us help others better," Myron W. Wilkins, executive director of Greensboro Urban Ministry, said of what he heard.
They complimented the IRC's Kennedy, for example, about their experiences coming in the door.
"The people who worked there, especially at the first points of contact, welcomed you with a smile," McCain said. "They did not make you feel any worse than you might have already felt coming in there in the first place."
That wasn't a lone person, because the two men were greeted by two different people.
"It's also nice to know that when you're being assessed and you don't know it, that you live up to the things you say are core values for your organization and the way you treat people," Kennedy would later say of what the men told her.
At the same time, they saw the possibility for better collaborations among agencies, when directing people to services. With his position at the United Way, an umbrella agency, McCain said he knows of nonprofits that others might not.
They also did not understand why the IRC and others don't open the warming stations until the temperatures drop to a windchill of 25 degrees or lower for at least two hours.
The IRC had to come up with a measure, Kennedy told them, for several reasons. In the beginning, the IRC's small staff tried covering the shelters at night while continuing to provide services during the day, and it was straining. When making choices, they chose using as a measure the conditions in which hypothermia and frostbite can occur. Kennedy told them that, with limited resources, that's the best measure they came up with to try to keep people from dying outdoors.
"I believe that if the community, churches, social groups, knew that this need was so great, that there could potentially be additional help," McCain said.
Both agencies, along with the Salvation Army and other community safety nets working with people in poverty, have been trying to strengthen options for the homeless, especially when it comes to shelter because they know sleeping outdoors is fraught with hazards.
"When you don't have those options, the only choice you have is to find a hiding place at night," Wilkins said.
The men saw, among other things, the need for day and night supportive services for the homeless; safe, affordable housing; services that target men; and increased collaboration among existing agencies.
Wilkins and Kennedy listened like the choir while McCain and Cottingham preached a familiar sermon.
"I always appreciate people trying to better educate themselves," Kennedy said, "and other people."
Not everyone needs to "walk in the shoes of the homeless" as these two did, Wilkins said.
"It's difficult for someone who has never experienced poverty to fully understand, but there can be enough empathy and compassion to … affect change," Wilkins said.
It would take two days for McCain to get a call about an available bed at the Urban Ministry. It took seven for Cottingham to be placed at the Salvation Army.
They share in hopes of getting others involved. They've come up with the social media hashtag #GSOUnseen to solicit ideas from the community on addressing poverty. People can also call or email Cottingham.
"What it told me is that I have to be the voice of the voiceless," McCain said of what he's learned, "because I do have a seat at the table, so to speak."
Contact Nancy McLaughlin at 336-373-7049 and follow @nmclaughlinNR on Twitter.
Get local news delivered to your inbox!