Greensboro Science Heart completes Winter Wonderlights | Youngsters household
GREENSBORO, NC – On Sunday, January 3, 2021 at 10:00 p.m., the Greensboro Science Center (GSC) officially closed the opening year of Winter Wonderlights. Despite an uncertain start due to COVID-19, GSC CEO Glenn Dobrogosz says the experience has proven to be an overwhelmingly positive and emotional success story for the community.
The November 2020 opening of Winter Wonderlights had been slated for more than two years as part of a larger vision to spotlight the marketing, branding, and economic development power of science and tourism in the triad ahead of Revolution Ridge's opening in May 2021 The largest outdoor expansion from GSC to date. When the reality of COVID-19 became apparent in early 2020, the GSC was ready to move the 2021 event to "summer" wonderlights or cancel the event until winter 2021.
Dobrogosz credits science, luck, and the tenacity of the GSC team for the success of the event. He says, "I couldn't be more proud of this GSC team. This team worked with professional lighting designers from GES Events to take on yet another bold challenge for our community – and now it's only getting bigger and more impactful."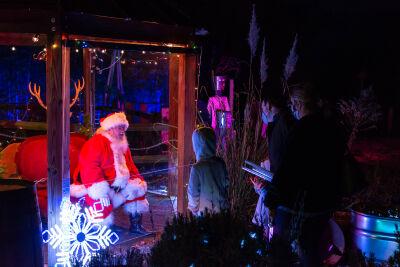 Successes in the opening year of Winter Wonderlights:
• More than 64,000 tickets sold
• Strong guest representation from all 5 Greensboro counties
• Guests from 80+ North Carolina counties
• Generous partners and sponsors from across the community
• Full enforcement of the GSC Safety In Focus COVID-19 guidelines
• A positive, safe, and much-needed outdoor experience for families during a difficult holiday season
• Overwhelmingly positive feedback from guests
• A year-long learning curve for GSC employees who are now better prepared for the much bigger event next year
• Smiles on the faces of the children and a heartfelt "thank you" from parents and grandparents
Dobrogosz says this event sets the stage for Winter Wonderlights 2021, which will double the size and intensity of Greensboro's brand new Christmas lights experience when expanded to include Revolution Ridge.
"In 2021 the GSC will complete its master plan Science City, USA, in 2006, present its completely new strategic vision entitled 2020-2030 Gateway Project and target the number of visitors of more than 700,000 guests per year and the top five Achieve status in NC, "says Dobrogosz. "I am so happy that all of this is happening in Greensboro."
# # #
Via the Greensboro Science Center
A premier family attraction in North Carolina, Greensboro Science Center features the state's first accredited inland aquarium, a hands-on science museum, an accredited Animal Discovery Zoological Park, a state-of-the-art OmniSphere Theater, and SKYWILD, an animal-inspired treetop adventure park. The GSC is also NC's only double-accredited Association of Zoos and Aquariums (AZA) and American Alliance of Museums (AAM) science attraction – an honor only 14 attractions in the nation can claim. The Greensboro Science Center, located at 4301 Lawndale Drive in Greensboro, is a 501 (c) 3 nonprofit organization. More information is available at www.greensboroscience.org.