Six months since a twister turned east Greensboro right into a 'battle zone,' rebuilding has been sluggish | Native Information
Josie Williams of Cottage Grove Initiative said residents are committed to rebuilding their homes and their lives during an Oct. 9 tour of the tornado-ravaged neighborhood in Greensboro.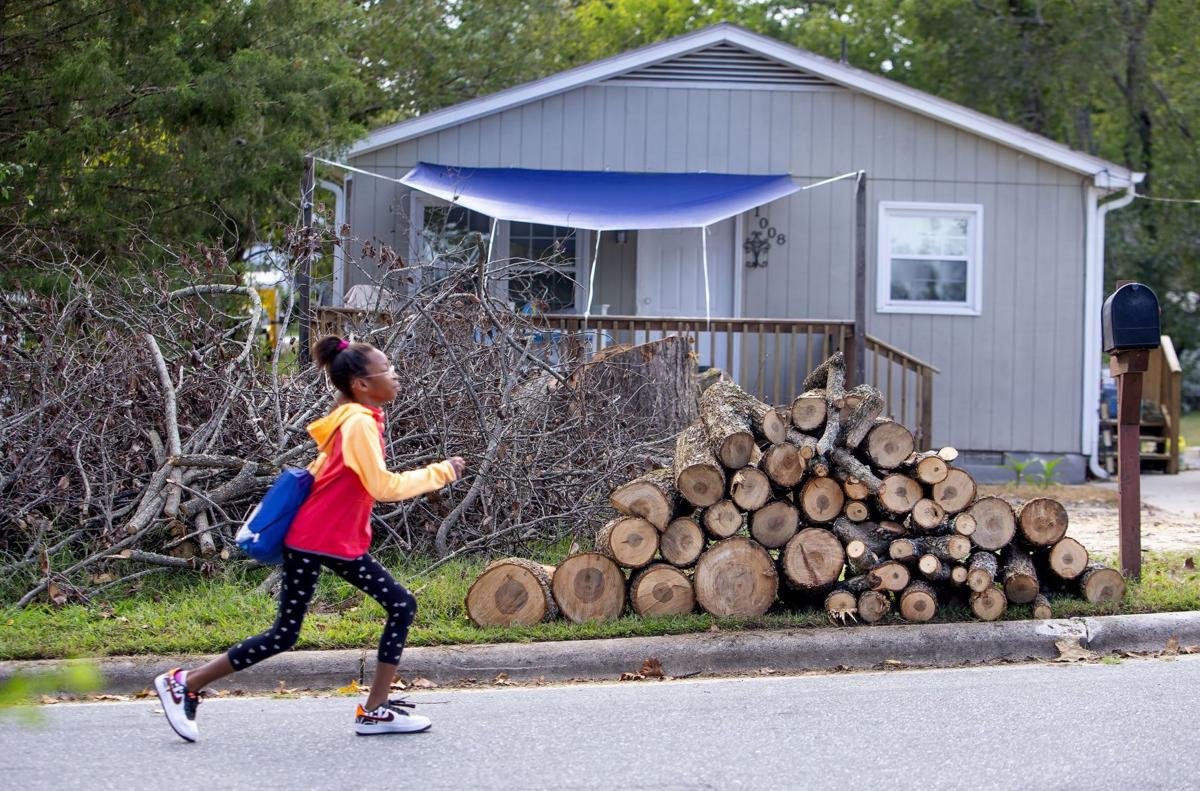 A student runs past a yard on Ardmore Drive where tree limbs are stacked six months after a tornado struck east Greensboro.
GREENSBORO — Josie Williams shouts out to the people sitting on their porch along the row of homes on Ardmore Drive. They wave back and call out her name as she walks by.
"That space over there?" the community organizer turns and says, pointing to a lot at the end of the street where a house once stood. "It had to be torn down."
She recalled leaving her High Point home and trying to get back into the community that night, facing roads full of debris, tree trunks and tangled powerlines. She and her husband had to abandon their car and maneuver through the darkness checking on the elderly and others.
"It looked," Williams said, "like a war zone."
Six months later and the path a 135-mph tornado took through east Greensboro is still easily traced from the trail of downed trees, new utility poles and tarps covering houses here — but also the few new roofs along the streets of Cottage Grove, the second-oldest African-American community in the city .
"Some residents feel enough is not being done," Williams said. "Some are hopeful for the opportunities it could bring."
The April 15 tornado, which caused $48 million in damage and left more than 20,000 households without power along a 16-mile largely residential trek, was first spotted about 5:15 p.m. near U.S. 29 and East Gate City Boulevard. The storm was responsible for the death of a father and damage to more than 1,000 homes and buildings — including three elementary schools — as it traveled across East Market Street and East Wendover Avenue to the Reedy Fork area and into Rockingham County.
At least 37 of the 1,020 structures with storm damage were destroyed. Local officials received more than 173 applications for housing help, and at last count three people remain in hotels, according to Stan Wilson, the city's director of neighborhood development.
The densely-populated East Greensboro has the city's highest poverty rates and the largest decrease in home ownership in recent years, although several multi-million dollar projects connected to N.C. A&T have taken root during that time.
"This is one of the worst places for the tornado to take place," said City Councilwoman Sharon Hightower. "I'm not going to make it sound all rosy. I think we've really done some good and I think we have a lot more to do. It's going to take us a while, so you won't see the total transition overnight."
After declaring East Greensboro a disaster area, FEMA mostly offered low-interest loans in the affected neighborhoods, where income is largely half the county average. Also complicating the recovery is the high number of people who were uninsured or underinsured.
Beth McKee-Huger, the retired executive director of the Greensboro Housing Coalition, sees a lot of promise in what is taking place in the storm's aftermath, even though she thinks there's room for improvement.
"I think it's really amazing what we've done because I know how complicated it is," said McKee-Huger, who is outspoken on issues of poverty and affordable housing, and applauds the work of the Storm Recovery Alliance, which is made up of 40 local agencies and city officials. The group first met weekly, and is now meeting every other week.
"For a lot of people, particularly homeowners, it's the first time they've had to deal with this kind of thing," she said.
The day the tornado struck, emergency lines were flooded with so many calls — about 1,450 in all — dispatchers in High Point and Davidson County had to pick up the excess.
"The Greensboro Fire Department went out immediately and did door-to-door searches," said Don Campbell, the director of Guilford County Emergency Management. "But even more important, it was neighbors helping neighbors."
The next day brought mouth-dropping views of homes in familiar places down East Florida Street and along the streets of King Forest that had been knocked off their foundations and roofs ripped away — offering a doll's house view of whatever the winds hadn't scattered.
People from across the city showed up in affected neighborhoods  — some with chainsaws, some with bottled water. Others came with outstretched hands and a question: How can I help?
Local musician Jessica Mashburn collected a hearse full of bottled water and snacks from friends and strangers through social media and dropped them off at Renaissance Plaza on Phillips Avenue.
"Scenes that you usually only see on the news from far away places, right here in Greensboro," Mashburn said.
New Light Missionary Baptist Church, a seat for the community, opened its doors and prepared meals with the help of a generator. Church leaders wrote checks to put displaced residents in hotels.
"I don't need a pat on the back for what I'm supposed to do," said the Rev. Cardes Brown, the church's senior pastor.
Donations started pouring into city-endorsed funds that would raise more than $800,000 to help people who had lost their homes.
As Guilford County Schools officials gathered to discuss what to do with the children at the three schools in the tornado's path, volunteers at the Guilford Education Alliance were on the phone soliciting supplies. The school system would move those children to three other elementary schools so that the schools could stay intact.
Guilford Education Alliance's partners brought in tractor-trailers full of supplies. Donations to stock the teacher's warehouse also came from retired educators and others in the community and elsewhere looking for a way to do something. They came with bags of the basics, like pencils and pencil sharpeners, with some taking out time to sew together oversized pillows for reading nooks.
"We all got choked up," the organization's Karen Hornfeck said of watching teachers pick out items for their relocated classrooms.
School district leaders — locked in negotiations with their insurance company — still don't have a dollar figure for the damage or a check to cover it. Principals, staff and students don't know when, if ever, they'll return to their former sites.
Still, every day since then has been a fight for people like Elliot Smith to regain some sense of normalcy.
Moments before the storm hit, Elliot had gotten up from a couch to close a window when a large oak came crashing through the roof right where he had been sitting.
"One of the scariest things I've ever been through," Smith recalled.
Outside he found his nephew's whimpering dog, who was inside a dog house that was raised up when the tree's root was sucked out of the ground.
"He was never right again," Smith said. "We had to put him down."
In the days that followed, people came around offering their services to repair the damage.
Elliott took someone up on an offer, wanting to return to the home that's been in the family for generations. 
He paid, and then they disappeared.
"Unfortunately, when these type of disasters happen, scam artists come out of the woodwork," said Wilson, the director of neighborhood development, whose group has worked as a watchdog, helping people get information.
Six months later, many houses still remain boarded up and some have faded yellow "condemned" notices stuck to the doors.
There's money to help people get another rental if they were displaced from a rental, or a rental while their own home is being rebuilt. But because there's so little housing in the city that's affordable, the process has taken a long time.
Also, some landlords are not allowing the inspections that are required for money to be used out of the funds to pay for deposits or rent.
Welcome to the 10th Annual Realtors 'R' Rebuilding project, which ends this week. These volunteer carpenters of sorts are members of the Greensboro Regional Realtors Association, whose members might be working with hammers and sheetrock for the first time.
"The place has to be inspected because they don't want somebody to move from one bad housing situation to another, and I agree with that," McKee-Huger said. "But it's disappointing that some landlords say, 'I won't take any new tenant who has an organization doing inspections,' because to me, that's saying I know my place wouldn't pass inspection and if I'm dealing with a tenant who doesn't have an organization backing them, I might be able to get away with renting them a place in bad conditions, and they won't know the difference.
"To me that's appalling," McKee-Huger said.
Almetta Tennie, who was covered by insurance, woke up to a carpet of glass in her home and a tree on the house next door, but she was spared as she napped in her bedroom as the winds wreaked havoc just on the other side of her bedroom wall.
Tennie, the president of the Friendly Neighborhood Watch Block Association can still see piles of debris when she drives through her Cottage Grove neighborhood.
"There's still a lot to be done," Tennie, who grew up here, said looking out on the community while cradling her dog, Cherish.
Some rental property owners have collected insurance and seemingly walked away. That's not only left their former tenants with no place to go, but dilapidated and vacant places in the community.
Other homes have been torn down, leaving empty spaces.
"We've gotten past the crisis point, but we still have a lot of rebuilding," said Mac Sims, president of East Greensboro Now, which is focused on economic development on the city's east side. "We are saying to those who are doing repairs, thank you very much. For others, it's 'Let us talk to you and see how we can help you with that.'"
Sims says East Greensboro Now is concerned that if they are going to help rehab a property, that it remains affordable and owners are doing quality repairs.
"We don't want to help you fix it up and then you sell it or up the rent," Sims said.
Cottage Grove is just a small section of the storm's rampage, but the disruption of lives is nowhere more apparent than a community where neighbors know each other by name. The historic neighborhood's recovery includes one of the elementary schools that was badly damaged.
In the days after the storm, thousands of volunteers passed through the converted house that serves as the office for Collaborative Cottage Grove, where Williams is the project coordinator. She is also the project team coordinator for the Greensboro Housing Coalition.
Prior to April 15, members of the Cottage Grove Neighborhood Association had already canvassed more than 300 neighbors to find out about community needs and begin creating solutions with the help of New Hope Community Development Group and other Collaborative Cottage Grove Partners, along with Cone Health, UNC-Greensboro, N.C. A&T and Cooperative Extension. At one time, the area bustled with businesses.
Teams formed to work on issues, including an aging apartment complex and other dilapidated housing with myriad issues; parks and outdoor recreation; transportation, including sidewalks; providing greater access to healthy food; and speaking to Greensboro City Council and other groups.
One of its biggest gems is the creation of the Mustard Seed Community Health Clinic, a nonprofit health care center which offers medical care to uninsured and underinsured residents of Guilford County.
Now, they've got bigger concerns.
"To get hit in the midst of that energy," Williams said with a sigh. "But this is a resilient community."
As she walks through the community, Williams voices a lot of hope as long as people don't forget about the needs here.
So does Sims. That a team of community nonprofit groups and city agencies has continued to meet to deal with recovery and are getting things done says a lot, he said.
Just down the street from Williams' Everitt Street office, the carpeting has just been laid and the pews will soon return to Living Hope Missionary Baptist Church, where the storm took down a wall and much of the roof.
GREENSBORO — Down east Florida Street, workers were just starting to build a roof where a blue tarp has covered a corner house for months foll…
Next door, Hampton Elementary remains boarded up.
Campbell, the county's emergency services director, said, if anything, the tornado reminded the community that such devastation doesn't just happen elsewhere.
"Yes, this can happen here," Campbell said. "It doesn't happen that often but we just need to make sure that we are prepared as much as we can."
Contact Nancy McLaughlin at 336-373-7049 and follow @nmclaughlinNR on Twitter.
Get local news delivered to your inbox!