The Rue Bar opens in downtown Greensboro on Wednesday | Weblog: quick orders
Rue Bar on South Elm Street in Greensboro.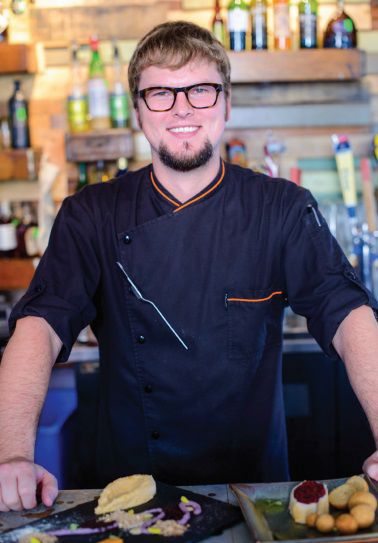 Mixologist Greg Schammel.
GREENSBORO – The rue bar opens on Wednesday at 318 S. Elm St.
It opens in the room that used to be Blu Martini.
The cocktail bar is the newest venture for Chef Trey Bell from LaRue Elm (403 N. Elm St .; 336-252-2253).
Greg Schammel, Beverage Manager at LaRue Elm, will lead the beverage program in the Rue-Bar.
"Rue-Bar is a natural extension of our work at LaRue Elm," said Bell. "Having our own bar gives Greg and our team the freedom to explore and add additional ways to the Greensboro food and drink culture."
Schammel has been with LaRue Elm since it opened in 2015. During his tenure at Cunliffe in 2014 at the former The Marshall Free House, he trained with world-famous mixologist Myles Cunliffe.
In keeping with a continuing trend in mixology, Schammel brings science to cocktails by using an arsenal of devices and techniques to infuse drinks and accentuate them with side dishes.
The bar pays homage to classic cocktails with offerings like barrel-aged Negroni and a new version of a Ramos Gin Fiz. The new cocktails, which change regularly, include drinks like grapefruit and rosemary vodka with sparkling wine and smoked sugar, or a mezcal cocktail that is served with "salty air".