The ultimate leg of the Greensboro City Loop is taking form | Messages
Crews are working on a section of the Greensboro Urban Loop near North Elm Street on the northeast side of Greensboro on Jan. 6.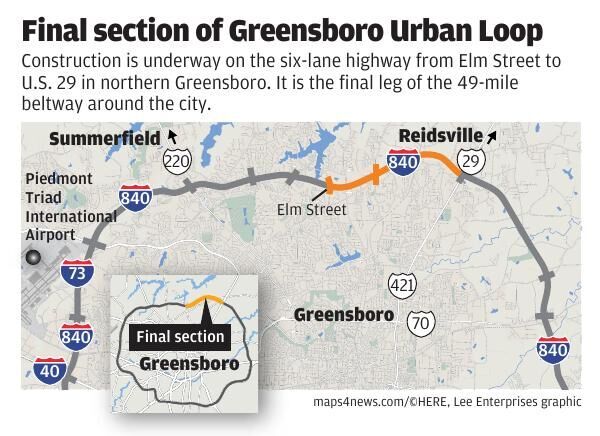 The six-lane highway from Elm Street to US 29 in north Greensboro is currently under construction. It's the final leg of the 49-mile ring around town.
KENWYN CARANNA

GREENSBORO – The final stage of the long-planned 49-mile ring road around the city is in its final year of construction, state transport officials say.
"They're doing the final in-road grading themselves," said Aaron Moody, NC Department of Transportation spokesman.
"In the next few months or so, people will start to see tracks pouring concrete … from the US side 29 and moving east to west," Moody said last week.
Construction on the final stretch of the Greensboro Urban Loop – from Lawndale Drive to US 29 – began in April 2018 and costs $ 137.3 million.
The section between Lawndale Drive and North Elm Street opened in December 2020, but the 3 miles connecting North Elm Street to US 29 are still unfinished.
This part is expected to open to motorists in the spring of 2023.
The six-lane highway is part of a 16.5-mile project – also known as Interstate 840 – that runs from US 70 in the east to Joseph M. Bryan Boulevard in the west.
"We're looking at roughly a 10-year project – in four sections – which is a good turnaround," said Moody.
When connected to Interstate 73 and Interstate 85, the $ 504 million project completes a bypass road that city guides first looked at in the late 1940s.